Pow Wow Pictures

Our Powwow pictures here at the QIA - We have vendors, stones, gems, jewelry and lapidary equipment, and all kinds of rocks, gems and minerals displayed around the show. Come and take a look yourself.
It is a great way to share all the various types of displays of stunningly beautiful rocks, gems, jewelry and the various equipment needed in this wonderful occupation!
This page will take a long time to load - too many pictures!! Please be patient and then click any picture to view them as a "Slide Show".

---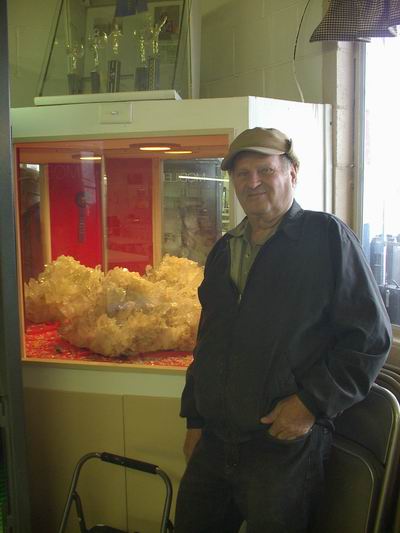 James Fecho not only has been coming to the QIA Powwow for over 43 years, he donated this beautiful piece of Quartz to the QIA. At the time of his donation, it was valued at over $15,000 and took several men just to lift it and carry it into the building.
It is on display in our entrance area of the cafeteria section of our QIA Building. Be sure to look for it.

We would like to salute James Fecho for not only the beautiful piece of Quartz, but for his determination to be a Powwow Vendor for over 45 years! Thanks Jim!
---
As much as we wanted to feature every booth and describe every picture - it was impossible! However, we tried to make a fair representation of all the various types of materials and workmanship that we had at our Annual POWWOW Show, here in Quartzsite.
Be sure to plan for our next Show on Jan 17 - Jan 21, 2024.

Inside Display Area at our Annual Pow Wow Show

Thanks to all the volunteers and everyone who gets evolved for helping us all enjoy the Annual
Quartzsite Improvement Association Pow Wow!
Please come back to our 2024 Show January 17 - January 21, 2024