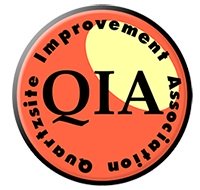 QIA


Quartzsite Improvement Association 
QIA Opening for the Season - November 1
QIA Powwow is always the 3rd week in January
1/19/2022 - 1/23/2022
QIAArizona is the Website for the Quartzsite Improvement Assoc headquarters in Arizona for the POWWOW Rock & Gem Show and great community events throughout the winter "season".
We are a nonprofit, community based, all volunteer group of people wanting to help the Quartzsite area and all the wonderful visitors we get here every year. Speaking of Volunteers, please take a look at our "Volunteer" Page to see if you can help us - we need all types of help!!  We host a variety of events in our large building. These can be anywhere from dances to BINGO to painting, jewelry, exercise classes and everything in-between!
Several local clubs and organizations also utilize our facility for meetings and gatherings.


We are officially open from November to late March. Our biggest event is the annual POW WOW (Rock and Gem Show) held every year the 3rd week in January since 1967.

Please use this website and domain name - QIAArizona.org - we can update your information to the public very quickly and keep everyone posted about the wonderful events and gatherings we have here at the QIAArizona website.

To help defray our operating expenses, our Membership fee is only $10 per person for the entire Winter Season and includes many discounts.

The Quartzsite area is famous for huge flea markets, RV Shows and gatherings. We have people from all over the United States and Canada that will winter here in one of our great RV Parks or on the vast areas of Bureau of Land Management (BLM) desert areas. The BLM offers 2 great ways to "Boondock" in the Quartzsite area - either a 14 day "free" pass on that designated land or for a small fee, they offer a Long Term Visitor Area (LTVA) just south of our facility.

As our website - QIAArizona - grows, watch for new information, pictures and dates of great events - all for your pleasure and enjoyment. Even our admission prices for dances, classes, etc are very economical - we are all about helping the visitors stay and enjoy the Quartzsite area.