New Christy Minstrels

The New Christy Minstrels put on 2 fantastic concerts under the direction of founder Randy Sparks. It was an incredible day for all those lucky people who attended either of the 2 concerts performed by the them.
Under the Direction of the founder, Randy Sparks, they had everyone clapping and singing from their memorable songs. The group members from the left side of the stage are - Greg O'Haver, Dave Deutschendorf, Becky Jo Benson, Randy Sparks, Jennifer Lind, Dolan Ellis and Pete Henderson.
A really nice feature of the New Christy Minstrels is everyone in the group does at least one solo performance. Wow - what a great idea! We were able to hear and witness the wonderful talents of all 7 members of the group. Each performer had their own specialty - either voice or musical instrument!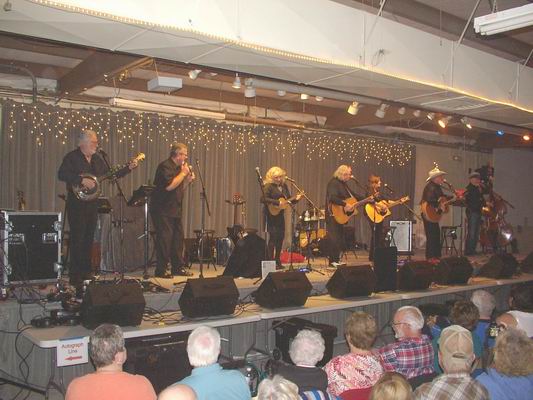 Just click any picture above to view the gallery of the stage with all the members of the group.

It was a real pleasure to witness this great concert - it was very obvious that each member of the group loves what they are doing!

Greg and Jennifer performed a beautiful rendition of Greg's song "You're Me / I'm You". Aside from all the wonderful songs of the New Christy Minstrels, this beautiful song was felt by everyone!
Last but not least was the autograph table. What a great way to conclude a concert! Not only did they provide a fabulous show, they stayed afterwords and signed autographs and chatted with anyone hanging around!
Very refreshing to see - thanks New Christy Minstrels!
Their foundation helps to promote music in our schools. While here in Quartzsite, they performed a free concert to the Quartzsite Elementary School. For info go to their Foundation

Even better - they've already been booked for our 2015 Concert already - January 10, 2015!!

---
A Special Thanks to our Special Events Coordinator - Sandy Andreasen,  for arranging these 2 great shows to come to the QIA in Quartzsite! It's a lot of work to get the bookings, promote it, print tickets, sell them and keep track of all the sales. Also to Bob Lucas for announcing on stage and making sure we have plenty of wonderful snack foods to nibble on from the concession stand.