Dances
Dances - 2014 - 15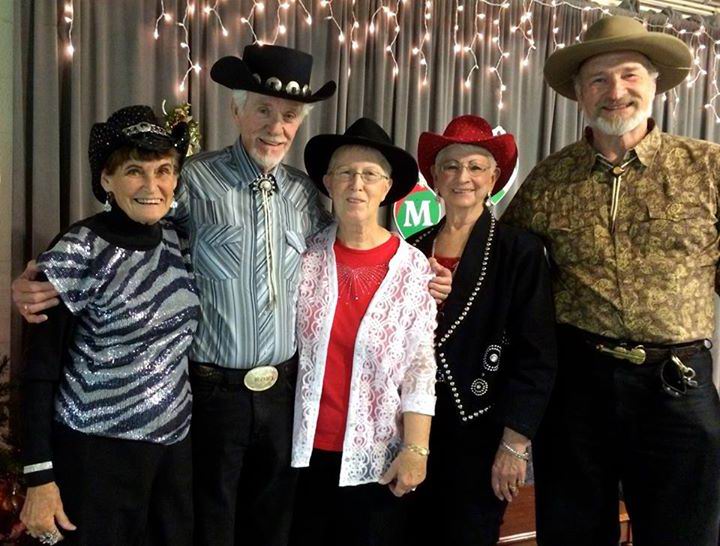 Great sound from the Western Strings at the QIA Saturday Nights

---
The band "Skyhawk" performed for our 2014-2015 New Year's Eve at the QIA

Dances started on November 1 - the day the QIA opened. Barefoot & Boots were the lead band for that Saturday and played a great "Homecoming" to all those early snowbirds.
As the month progress the "Western Strings" started playing on Saturday nights. They will be the primary Saturday night band with Barefoot and Boots doing the Wednesday nights.

Who says there is nothing to do in Quartzsite?
Be sure to check our Calendar Page for Events at the QIA

---
Dances - 2013-14

The 2013 season dances were held on Saturday Nights and featured the Melody Masters, Barefoot & Boots, On the Road Again and a few others - also during the week. Plus Square Dances on Monday night.
The Melody Masters were the opening night band for our first night of the season in 2013. They played to a great audience of dancers and received lots of clapping after every song. We had a variety of Two Steppin, Foxtrots, Waltzes, Cha-Cha's and Swings.
The new look for dancing was great too - the "facelift crew" had a nice shinny floor all ready for us with new LED rope lights to provide that perfect dancing atmosphere.

Be sure to check over our Calendar page to see when each dance is and how the band will be. At QIA we have dances on Saturday night, unless there is a big Trade Show going on, plus usually a dance on Wednesday nights as well. We like to see all our visitors enjoying themselves dancing and sharing life with other visitors!

Barefoot & Boots, On the Road Again and the Rail Splitters are all performing for your dancing pleasure the month of November - be sure to come out and say hi to all the returning regulars - or introduce yourself if you are a new visitor!
Plenty of dance floor for everyone!
Square Dancing

We have a very active Square Dancing group,called the Cactus Dodgers, that enjoys dancing on Monday evenings (Schedule). The Monday night group is reserved for those who already know how to Square Dance and understand the quick moves and calling done by someone else.
They will be teaching a Square Dancing class in January for those that want to enjoy dancing on Monday evenings and learn all the neat "calls" that are part of the art of Square Dancing.
Lenora is one of the "Caller's" and teachers for the classes starting in January - Be sure to look over the Schedule for times and dates of the classes in January