Activities 2014
Christmas Parade & Festivities 2014

The QIA entered the 10th Annual Christmas Parade on Dec 6, 2014. Aside from the float being fantastic - we won the FIRST PRIZE for the parade!!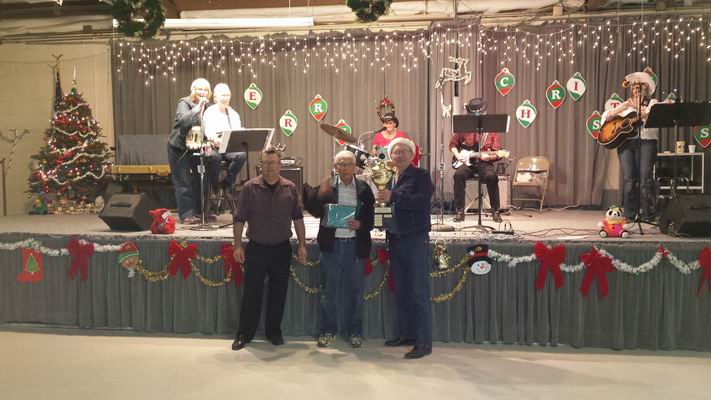 Parade Float Elves - John, Leonard & Howard

| | | |
| --- | --- | --- |
| Elves Bob and Leonard installing the Tower | The reason why!! | Elf Leonard installing the lights |
---
Community Forum Luncheon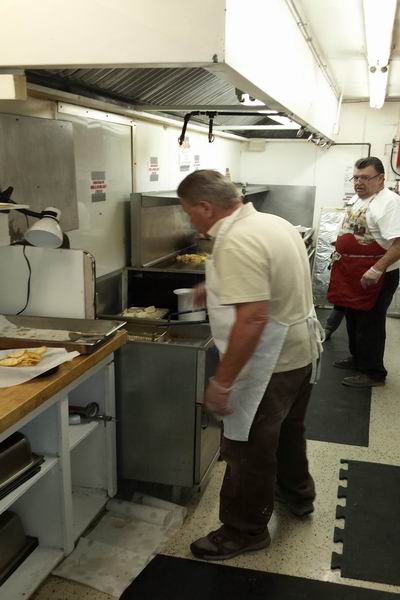 Someone mentioned trying to arrange a Luncheon with all the Business and Town Leaders, along with the various Clubs and Community Charities. The goal was to try to bring various groups and clubs together so we could help each other and provide even more for the Quartzsite Community.

Initially, it seemed an impossible task. However, a few key people started making a list and before we knew it, we had a list, invitations and a luncheon planned.
Our awesome chefs - John and Kathy planned a great meal that we could serve quickly and still delicious.
Invitations were sent out with "hope" that some would respond and show up!
We had over 40 people show up for a Luncheon Meeting at the Q representing just about every facet of Quartzsite - Charities, Clubs, The Town and La Paz County.
Special THANKS to Mark and Lynda Goldberg for all their work getting this to happen.
Special Thanks to John and Kathy in the kitchen and Larry and Nancy for helping with those awesome home cooked potato chips - they were the hit of the luncheon!!

---
Our Activities at the QIA cover all aspects - Bingo, Dances, Shows, Craft Fair, Meetings, Membership and just good old fashion fun for its members.
As the Quartzsite Improvement Association, we try to provide as much as possible for the community. We love the fact that so many people come to visit us from all over the country and Canada during our "Season" of November thru March.
The driving force behind all these volunteers and activities is Sandy A. Sandy is the Special Events Coordinator and Activities person. It definitely cuts into any mall time!! She's always here helping out or recruiting help, etc.
Many of the Bands or Concert Events have to be arranged at least a year in advance. Sandy's time is always preoccupied with the QIA.

The Annual Christmas Light Parade (2013) was held in Quartzsite on Saturday night - December 7th.
Your QIA group received TWO First Place Trophies - YAHOO!!!! This years design incorporated the QIA and the PNQ (Proud Neighbors of Quartzsite). They designed their float on the theme of The Grand Gathering that is being held in March.
The float had 2 camels both facing forward - all lite up. Then the front camel would turn and face the camel behind it and a "heart" would light up! Very neat look and right in the theme of the special event coming up in March - The Grand Gathering!

Membership Registration starts on November 1st and we've signed up lots of new and returning visitors to our Association already.
Bingo Activities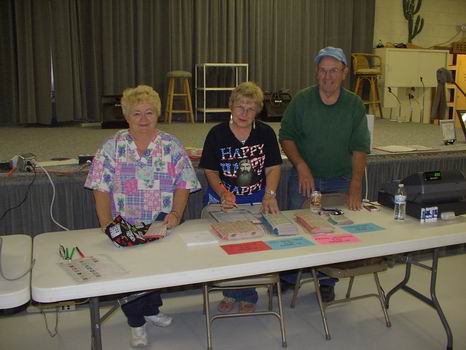 Bingo is a huge success for the QIA. We have lots of returning members asking when is the first night of Bingo. Pat is our "Bingo" person! She puts together a great team of  runners, callers and support staff every year to handle this huge project.
A tremendous amount of time and effort has to be put in to handle all the legal paperwork required to run a Bingo Program. Bingo is typically held on Friday nights, but take a look at our Calendar page to view our schedule to be sure.

Craft Fair

The Craft Fair is held on the First Saturday of each month as is always a huge success. Imagine all the goodies that people bring with them from just about every state and Canada! Aside from all the various crafts represented, we have some really talented "crafters" selling and showing their wares and ideas.We also have a great Yard Sale area for those items that just need to be sold to someone else!

Stop by our QIA on the first Saturday morning of every month to see for yourself! Cathie has taken over the Craft Fair for 2014 - Please call Cathie at 208-709-2092

Dances
We have Dances on just about every Saturday night, unless there is a weekend event like our POWWOW or the Gold Show.
To keep things exciting, we have different bands rotating throughout the Schedule for your dancing pleasure. Be sure to come out and dance - it's great exercise and lots of fun!